Social Accounts
Each year or at the end of mentoring  we ask our mentees, mentors, parents and teachers for feedback on the progression of the mentee throughout the year. These questions are based on the aims the organisation looks to achieve through mentoring, and enables us to create a mentoring journey for the young person.
Last year we mentored 453 distressed and vulnerable young people, which is a 26% increase in children supported. This shows the great need for our service and thank you to all our mentors for their valuable work and the schools that we provide a service to. Here are our results (names changed where necessary):
Social Accounts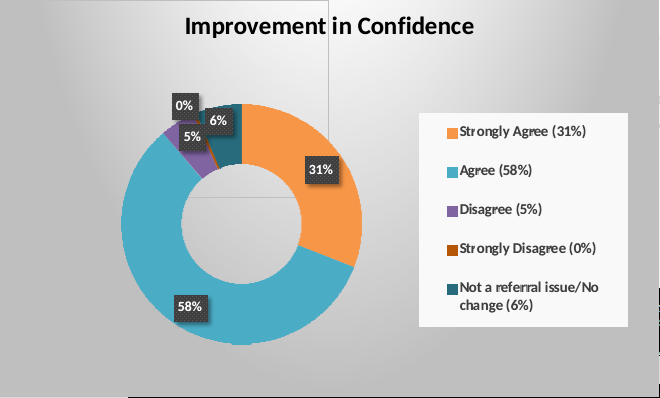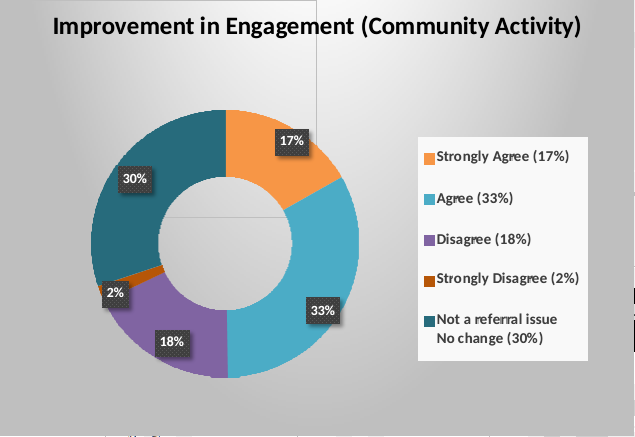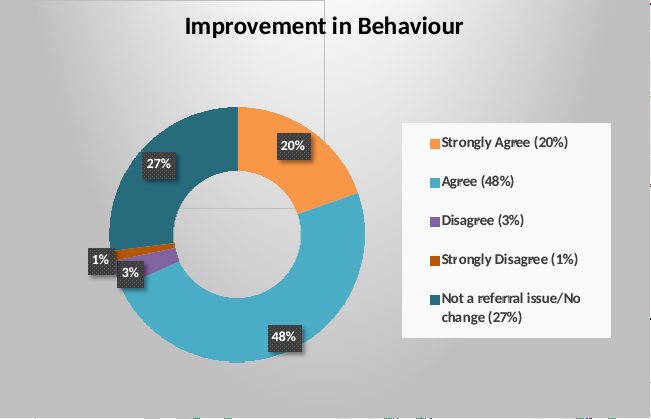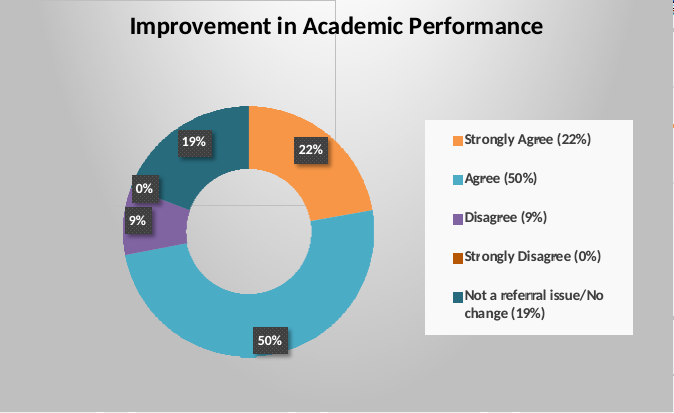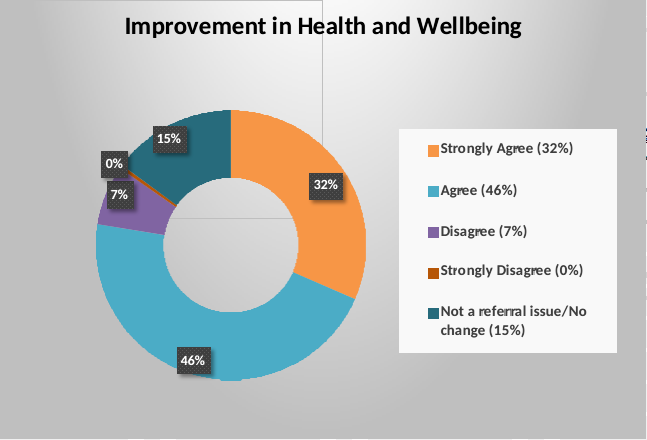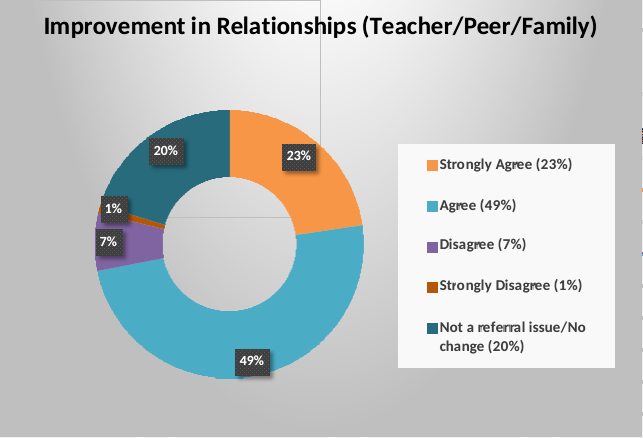 Feedback Quotes
Mentee:
Sandra just listening helps.
You have helped me a lot, I feel much more comfortable. Thanks for helping me through the hard times.
Gives me space to feel bouncy and happy.
Thank you so much for helping me, I really appreciate it and I'm so grateful that I met Amanda she's so lovely and understanding. My humour I would say is just a bit like hers so we get on really well and I'm so happy that I met Amanda.
Thanks for helping me a lot and you know how much differences there has been since we have been seeing each other.
I really like my mentoring sessions with Emma, she has helped me with my family relationships and with some of my relationships with friends. She has taught me how to keep calm and to think about things that I do. There is nothing that she can improve on.
I am more confident. I have a full time job which I enjoy and gives me a structure. I am taking driving lessons and forming better personal relationships. Thank you for your support – a big help when I needed it most.
You've helped me grow confident when I'm talking to people. I get more involved and don't hide away.
Lots of enjoyable talks helps me review my weeks.
They have helped me a lot because I feel more confident by talking to me calmly and helping me when I struggle.
I look forward to the sessions because it's just the two of us and I can talk about things.
Thanks for helping improve my behaviour and coming to see me.
I love Mentor Link, it's so fun! You have helped me with my confidence and with my calming down. I wish you could have me for a little bit longer.
It's really good and I love it and can't wait until the next one. I will really miss you when it stops.
Very happy with my mentor!
My confidence has really improved. Ian makes me laugh and happy. Thank you.
Carol is nice and lovely. She tells me new things to learn. She helps me when I'm stuck if I do it a bit wrong she shows me how to do it and she does nice things with me. She also helped me do blanket stitching and chain stitching, she shows me a lot of stitching.
Mentor: 
Jake appears confident and I think his confidence will continue to improve with support.  By supporting a teenager, helping their confidence to grow, they participate more with their peers. Which helps their peers to see them more openly helping, helping their class friends to understand them better and join in communication. When pupils are supported pupils can have a positive effect on the school's goals as a whole.
D has on the whole had a more settled year at school and seems to be doing well academically. She seems more at ease with herself and her friendship groups this year too and has joined new extra curricular activities out of school which she is really enjoying.
He is much more settled and comfortable in himself. Although a very energetic and enthusiastic child he is learning how to focus and in doing so is able to show his creative side. This has been achieved through focusing on topics that interest him, such as Lego.
She is happier and more excited about life and has lots to tell me when we see each other now. She smiles more and seems so much happier.
Volunteer mentoring brings everyone closer together with an increased level of empathy gained.
How wonderful that a schools wants to have Mentor Link in the school helping pupils.
Mentor Link demonstrates support to the schools' infrastructure and that the school ethic is endorsed in helping all pupils fulfil their potential, given guidance, patience and understanding.
On a macro level I hope mentoring shows people outside the nucleus care and that individuals aren't alone.
She seems more excited about what is going on in school and class and happier to engage with the activities.
I hope our mentoring shows that the wider community cares about its young ones through actions and donations.
Much more confident/happy/more outgoing – developed a lovely relationship with her foster family and foster siblings, much more content at school and more vocal.
She seems able to process information/situations much better and deal with them without being so angry and upset. She thinks about things before she acts on them and sometimes is able to temper her reaction accordingly.
Teacher:
It allows the children access to a trusted adult other than an opportunity to share worries etc.
A enjoys the opportunity to discuss with her mentor, and has actively begun to state "that is something I can talk about when…"
Having someone focused specifically in targeted intervention for individual pupils is valuable from the pupil perspective.
J is calmer and more settled knowing that she gets 1:1 support where she can talk about herself and she'll be listened to.
They seem to love the sessions and return positive.
B is sharing more worries with staff – he is open to support.
Mentoring has presented him with a positive male role model, given confidence when speaking to others, and improved self-esteem and confidence.
He has managed to open up and talk more about his anxieties and also his remorse regarding behaviour towards Mom. We are hoping Mentor Link and Ian will continue their association with a view to input regarding any interventions, conferences etc. Ian is fantastic. The boys have genuine respect and affection for him. He offers another opinion and a safe, personalised space.
O seems much more comfortable in his own skin. He has grown in confidence and rarely shows the levels of anxiety he has in the past. He has managed to open up and talk more about his anxieties and with increased confidence has come an increased capacity to work, especially write.
A has shown an improvement in his ability to take himself away and calm down. He still needs reminding of choices and explaining the consequences of his decisions and actions, but he is showing signs of improvement. He looks forward to the sessions and they have become part of his timetable that he is constantly asking about and wants to happen on a regular basis. He does enjoy one to one attention and so having this dedicated time is always a help for him to have time to discuss and reflect.
T's learning behaviour in class has improved as he is more focused and willing to participate in activities.
R needs someone to talk to who she can trust – since Tracey took over her mentoring, R has been far more engaged in the mentoring activities.
The children need someone neutral to talk to, and a good listener – thank you!
Carol is lovely! The children love her. I know that G was very disappointed when we said that his sessions have to come to an end. Carol is very patient, calming and understanding.
Z has made a good relationship with his mentor and has been able to more recently talk about his feelings and events more freely. She has also suggested activities/materials to support his learning in class. One example of this relates to Z's handwriting which has improved. Also the support he has been given through mentoring has meant Z has coped better with difficult situations and events in his life this year. With Z it is very important to feel special and to be given time where he can be recognised and valued more fully.
Absolutely invaluable!
Parent:
Tom has been much more 'family feelings' aware and has been much easier to talk to about things that he would normally not talk about. Sue has been such a positive part of Tom's day at school. He values it and needs it so much more as she has been his sounding board. She has a fantastic way of calming him to and do right things life and at school. We would be devastated to lose her.
Sandra has been a great support for C. He enjoys coming to see Sandra and we are hoping over time he will talk to her. This is not a reflection on Sandra. She has a great understanding. He is staying slightly longer some days.
G feels more comfortable talking to Carol. He is a reserved child and dwells on issues rather than discussing them with me. His sessions with Carol have helped him great deal.
It has helped him and has been really good for him and T wants continue with it. Getting something from it. Bernie seems a great guy it takes an interest in E. A good all round experience for him.
Helped him a lot and he is making good progress. Thank you to Bernie you have been brilliant.
I would like to thank Ruth for her patience with my son and for being there for when he needs to talk.
Can't speak highly enough of your service and would recommend us to anybody that needs the service.
We asked our mentors: Has volunteer mentoring improved your understanding of the issues facing young people, and how?
Children have many issues growing up and when they leave an unstable home life with no one to talk to they feel even more isolated and then struggle to build relationships with their peers due to poor behavioural judgements.
There is definitely more pressure on young people. Social media has such a big impact in their lives and everything is instant.
I think children are under a lot of pressure at school and need someone to talk to and listen to them. often parents are busy so haven't got the time for one to one chats.
Pupil had moved school and was struggling to make friends and missed old friends. Seems to have grown in confidence and has friends now – voted by class mates for school council. Was reluctant to leave lessons to see me initially and was quiet – looks forward to meeting now and is chatting and opening up more.
How physical and mental wellbeing can significantly affect application to school, which in turn affects performance and confidence.
Yes indeed. Young people seem to know so much at a young age and dealing with so many factors. Particularly being accepted by everyone else around them. They compare themselves to each other all the time and are so focused on what people think of them. Self-esteem is lacking amongst young children and this leads to their feelings of unworthiness and anxiety.
So many young people today have a tough home life and often without a role model to follow.
Observed that the world is a complex mix of frightening change, politically, economically, socially and environmentally. Many issues for a youngster to face which can be totally bewildering.
Grief, especially when young, is bewildering. I have gained invaluable knowledge and understanding by talking with my mentee.
I had no idea how little their wishes/questions etc too for social services to deal with, and how little say they had in things. I am in awe that at such young ages they are able to deal with things so well when they are constantly let down.
We asked the mentees: How can adults prevent young people from needing this type of support?
Make their child feel a bit more secure in what they are doing by paying more attention.
By giving them support before they get to this stage.
Think about what you say and the impact it has on how the young person is going to feel about themselves.
By closer involvement and spending quality time discussing matters that concern. Look out for signs of depression and anxiety.
Understand their capabilities.
"I would change the way adults swear, we could ban swearing! My mum swears sometimes but not regularly. Adults shouldn't swear because children can easily copy them."
By speaking to the children regularly and tell them it's ok.
I think parents can and can't prevent children from needing this support. They can't because things happen in life and they can because they can take good care of their children themselves.
Support them at home and then they won't feel like they need it in school hours.