Social Accounts
Twice every year we ask our mentees, mentors, parents and teachers for feedback on the progression of the mentee throughout the year. These questions are based on the aims the organisation looks to achieve through mentoring, and enables us to create a mentoring journey for the young person.
In 2017 we mentored a total of 359 distressed and vulnerable young people, and had an 91% response rate from our stakeholders on feedback. These are our results: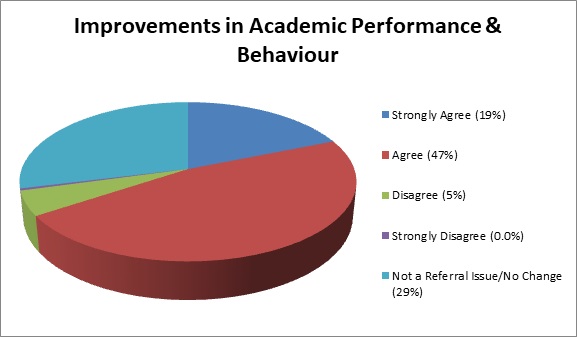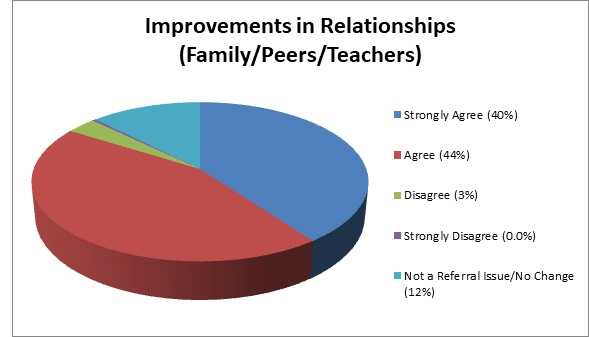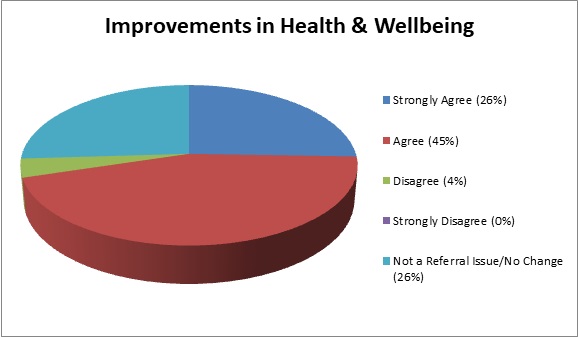 Mentee Feedback:
Definitely want to continue mentoring with A – He's my friend. He's awesome!
He is really nice. I would like to see him again and he has helped me a lot. He is the best mentor I could have. He has helped with work and behaviour.
He's brilliant; he's helped me with everything, apart from being a Liverpool supporter. Nothing to improve!
Parent Feedback:
I am glad L had the chance to be mentored it made a positive response with him. Your service is absolutely the best for L.
I'm so grateful to Kim and this service. My daughter looks forward to her sessions. It has helped with expressing her feelings and dealing with emotions since her father and I separated earlier this year.
Seems much happier in himself, he is able to express himself in a more positive way. Self-esteem has grown and isn't so hard on himself. I feel that mentoring service has helped W a great deal along with the support given by his school.
Teacher Feedback:
It gives children long term support (most other agencies finish in a couple of months) It gives the children concerned a quiet space and an opportunity to heard and appreciated. Thank you.
Providing K with a positive male role-model, giving him the chance to have a relaxing and enjoyable one-to-one session with someone that isn't a teacher. Chris is the perfect mentor for K, he is a lovely man and K really responds well to him. We couldn't be happier with the match!
We rate the mentoring programme so highly we wish it to continue for A as he moves up to high school. We have seen fewer instances of aggressive behaviour and an improvement in his school work.
Pupils experience positive communication and relationships with a mentor which seems to transfer to other members of the teaching team. Pupils enjoy the attention and opportunity for special time of their own with an adult who responds to their questions and comments. Pupils leave the sessions in a positive manner and look forward to them.
Alex worked extremely hard towards his SATS and did very well. Compared to 6 months ago, this is a big improvement.
Mentor Feedback:  
KMC was very emotional when I first met her due to her parent's separation and was not participating well in lessons. She is much more settled now and much happier. I have had some fabulous feedback from school and she's just a lovely child to spend time with. She is taking part in lots of sporting events and is so much more confident.
He is more willing to chat and express himself. The piece of art work he completed is amazing and I think showed him he has ability. He hated doing GCSE Art as he wasn't able to do the work he wanted to. He has also enjoyed colouring adult picture books. He's very precise and careful. He has taken pride in what he has done. Not something he has much experience of before.
Thinking seriously about future career options and GCSE choices. Understanding about different personality styles and how to modify own style to deal with them. Taking ownership, thinking about consequences and not reacting rashly.
Mentor Link shows schools that there is someone else in the community that REALLY cares about the future for these children.
A good example of what can be done to support children in difficult times, without disrupting school and family life. I think Mentor Link is a very subtle but valuable way to help children who may not yet have severe issues but who could go on to develop them if not dealt with early enough.
Protective Behaviours 2017:
We also provide training in Protective Behaviours to schools across the West Midlands. The aim of this training is to teach children about their right to feel safe at all times, and how to recognise, understand and inform a trusted adult about possible ill treatment, abuse and neglect. The training increases recognition of the feelings and signs associated with feeling unsafe, and gives the children improved knowledge of what to do.
In 2017, we delivered this training to 7 Primary schools and trained 204 pupils in Protective Behaviours. This is the feedback we received:
Quotes and Artwork from Children trained:
"The activities were all good and helped me to recognise how to stay safe"
"It helps me to be safer and know who to trust and rely on people"
"It helps me feel safe and protected and it makes me know the effects it could have"
"The most useful we have done is my personal network hand and early warning signs and I shall rely on them from now on"
"It has helped me to know who to talk to if anything happens and early warning signs. I feel really safe and secure"
"These sessions are helpful because they show you how to feel safer and who to talk to"
"It has helped me a lot"
"Thank you for coming in and helping and making sure that we knew the rights and other things"
"Yes it was really helpful. Thank you for coming in and teaching us safe and unsafe"
"This has helped me by: understanding why I'm safe and knowing who I can go to if I have a problem"
"Protective Behaviours helped me with my early warning signs. Thank you."
"It helped me. I know who to call."
"If someone was mean to you, I learnt that you can tell someone so they can fix it."